Hipster weddings. They're a dime a dozen, yeah? Gosh I'd like to be all *yawn* about that, but you know what? ANYTHING out of the ordinary makes weddings easier to take. For instance, these kids got a talented friend to make paper dolls of them for their wedding! That's pretty cool... Bob and I had a hayride at our wedding, and that did beat a unity candle.

But the question always crops up - your hip friends, the ones with taste and a few bucks? Whose apartment looks like a design museum? What the fuck do you get them as a wedding present? You could go to Takashimaya and buy something white and porcelain and perfect... but maybe you're a more personal type. Maybe white and porcelain says 'toilet' to you. But you don't want to get something that they will look at and say, "P.U!" And it happens, oh yeah. I've been married twice and I can tell you - there are gifts that you unwrap, coo over, and place gently on a high shelf to be admired forever, and then there are gifts that you unwrap, recoil from, and place gently, immediately on the curb.

Seemingly, cream-soup-lovin' Tricia is faced with this situation. And, clever girl, she hits upon A Book as the perfect gift. Here's her question...

"Do you have other recommendations for picture books that would make good wedding gifts? Something for the sparsely-decorated high-modern loft types, perhaps?"
Dude! All you have to do is ask! There are a ton of children's books that kind of you suspect weren't written for children. The art is way over the top good, or the story is clearly secondary, and I always fear that these books don't reach their intended audience. I'm always pushing the picture books on the grownups. Here are my suggestions:



If they're honeymooning in Paris:

Adele & Simon

by Barbara McClintock

. Purely gorgeous, and the precision of the depictions will warm the cockles of the slightly OCD hipster heart.



If they really do live in a loft:

Not a box

by Antoinette Portis

(

reviewed earlier). Probably the most high-concept modern book in this bunch, and also charming. Now, in the review I linked to, the astute Fuse #8 mentions Dick Bruna, the creator of the mute, staring, nightmarish Miffy. Dick Bruna's books may be in the MoMA design store (actually, they're not, although the very confusing

Art Fraud Detective

is), but Dick Bruna's books are also boring to the point of coma. Do not be taken in.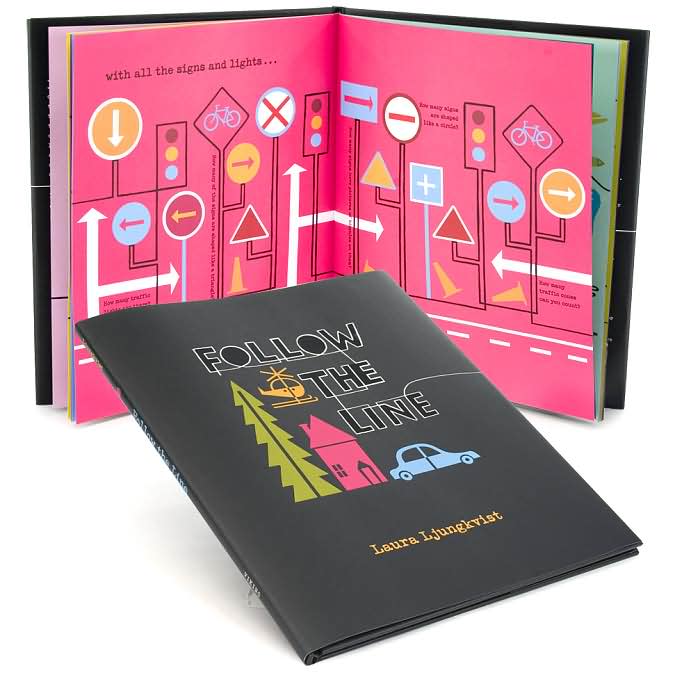 They love the Scandinavian design?

Follow the line

by Laura Ljunkvist

. So high-concept, even the web site deserves a design award.



If they're honeymooning at the beach:

Drawn from life, Beach

by Elisha Cooper

is a quiet but entertaining book full of that kind of minutiae that adults and some kids find captivating... and

Magic Beach

by Crockett Johnson

(the

Harold and the Purple Crayon

guy) is kind of a children's book aficionado schmuckbait item. But I'm putting it on Tricia's list because it's lovely. See, it was an uncompleted manuscript (hence fanbait) and has been published with all the pencil lines and erasures intact (mega-fanbait, ergo schmuckbait), but... it's a lovely story. Whatever the two little kids write in the sand is washed away by the waves and replaced by the real thing. Strong stuff about possibility and dreams (and also a good early-reader lesson, but that's not important right now).



Their idea of decoration is one exquisite piece of driftwood lying on the mantel:

An egg is quiet

by Dianna Aston

. This book is beautiful and interesting and my kids sat still for it but I can't imagine many would. One of those picture books that totally caters to adults.



Their idea of decoration is an ironic collection of sock monkeys whimsically posed on their Bertoia chairs:

10 Little Sock Monkeys

by Harriet Ziefert

. There are a lot of sock monkey books out there, children, but surprisingly, most are kind of blah. This one is good, and

Oscar:

The Big Adventure of a Little Sock Monkey

is good

.



Park Slope residents?

Knuffle Bunny

by Mo Willems

OR The Neighborhood Mother Goose by Nina Crews. Both have illustrations built on actual photos of actual Brooklyn.



High-modern with lots of color?

Invisible

by Katja Kamm

. Have not laid my hands on this book yet, but I can tell by the cover and the reviews that this is one for the MoMA gift-shop crowd!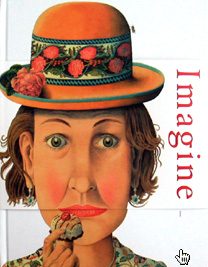 Secretly steampunk? Imagine

by Norman Messenger

. Oooh that's a good book. There's a lot to look at here, we're gonna buy it.



If they like puzzles and beauty:

Flotsam by David Weisner. Anything by David Weisner is fascinating and mysterious, but this latest one is the best so far.



If they have a pulse:

The Yellow Balloon

by Charlotte Desmatons

. One of the nice things about modern is that you can make what you want of it. Same can be said for The Yellow Balloon.



So, Tricia has gotten all the way through this list and she still doesn't see anything that's about, er, a

wedding

, I mean hello wasn't that the

point

?! and I have to say, Tricia is totally right. I blow. When people I know get engaged - people I love, even! people I'm related to! - I give them the not entirely lame but, you know, kind of... mass-market...

Miss Spider Gets Married

. And why? Because, except for 'mom and mum' and Uncle Peter, and various idiots who try to get the spunky main character to be a flower girl, NOBODY gets married in children's literature these days.

But ok, here we go:


African-American couple

: Wedding by Angela Johnson.


Asian-American and Caucasian couple

: Uncle Peter's Amazing Chinese Wedding by Lenore Yook, good illustrations by Yumi Heo.


Jewish wedding:

Beni's First Wedding by Jane Breskin Zalben. Pretty.


Navajo couple:

Yes, Navajo. I told you there weren't many.
Navajo Wedding Day: A Dine Marriage Ceremony by Eleanor Schick.


And, if you are truly truly desperate, there's always kitsch to fall back on:





A Wedding Is Beautiful

(a Little Golden Book, complete with big-eye kids and the creepy suggestion that 4-year-olds are getting married).

Sorry, Tricia!