March, 2008:
This review has been updated and is posted on
Pink Me
.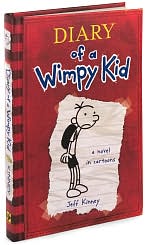 Sigh. You know what? I think I'm too sensitive.
Pause to let my mother stop laughing. Careful, ma, you don't want to gag on your coffee.
No, really. I read
Jeff Kinney
's well-regarded, heavily-cartooned
Diary of a Wimpy Kid
, and I wanted to like it. I did like the cartoons - Kinney has a nice clear style and good composition. And I laughed out loud in a couple places. But - well, let's set this up:
The titular Wimpy Kid, Greg Heffley, is a middle-school lightweight. By his own reckoning, he's the 52nd or 53rd most popular kid this year. His life is full of the usual middle school misery - an older brother who plays tricks on him, a baby brother he sometimes has to tend, and a dorky best friend, Rowley, who has yet to get his middle-school groove on. The kind of guy a lot of kids can probably identify with.
And like a lot of kids, Greg always tries to find the easy way around the obstacles that face him. Unfortunately, the solutions he come up with frequently involve trying to copy the success of others, exploiting younger or less-popular kids, and crapping all over poor Rowley. Ick.
Now, granted, I'm a mother of boys, and it would break my heart to see my children exhibit the unremitting lack of consideration that mars Greg's every action. But the book isn't written for moms. If I were an eleven-year-old boy, would Greg's selfish schemes be real knee-slappers? Just because this character's behavior makes
me
uncomfortable, does that mean I wouldn't recommend the book? Besides, Greg redeems himself - very slightly, and almost by accident - in the end. Hm.
This is what's going to happen: I will recommend this book to the kid whose reading level has progressed beyond
Captain Underpants
but whose interest level has largely not - to the kid who likes the funny above all else, and probably to the kid who draws in his notebooks without cease. Can't write more: I've got my
thumb stuck in a bottle of India Ink
.
------
I was thinking about these illustrations later: the loopy jaws, the gaping mouths, and it occurred to me that
Diary of a Wimpy Kid
bears more than a stylistic resemblance to
Peter Bagge
's
Hate
. Greg Heffley could easily be a pre-teen Buddy Bradley - amoral and basically lazy - and Jeff Kinney's readers one could easily imagine growing up to be
Hate
readers. Worse things could happen to a kid, I'm here to tell you.
I'm not completely rescinding my distaste for this book, mind you. When older kids read
Hate,
they understand that Buddy's life sucks because Buddy is by and large a dickhead. I think that Greg's younger audience needs to have that spelled out a little, and this book doesn't ever explicitly do that (although I really love the mom - her eyes are blank behind her glasses, but her body language more than expresses her disgust for her son's actions. Maybe that's what made me think of Pete Bagge the most - her character, plus the baby brother calling Greg "Bubby," that should have tipped me right off).
To sum up:
I still don't like Greg, but I'll read the sequel and I'll buy it for Big Man's school library. And if anyone is looking for me, I'll be hip-deep in the guest room closet, reliving my twenties with Buddy Bradley,
Hopey & Maggie
, the
Post Bros
,
Julie Doucet
,
Roberta Gregory
, and assorted other miscreants.