Christmas in Hades by Dan Goodsell. On sale in his Etsy store - get it while it's hot, heh heh oh nevermind.
Core77
has this terrific list of
77 Design Gifts Under $77
. So many things on it are drooly, including the
Richard Neutra house numbers
from
Design Within Reach
(the most poorly named company I know of).
I have come across some good gift ideas myself this year. And since I don't have any money or time, and in fact precious few friends! I am offering my ideas to the public at large. All 23 of you.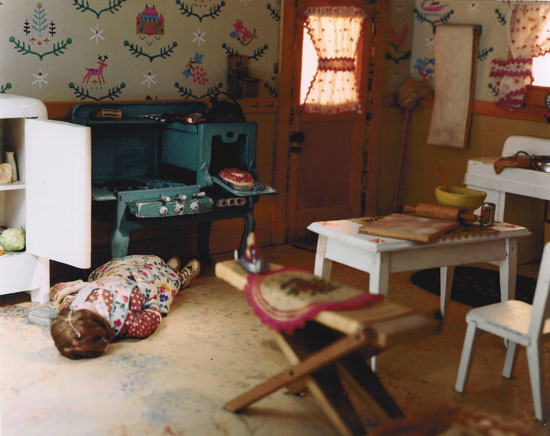 1.
The Nutshell Studies of Unexplained Death
by Corinne May Botz. Photographs of the work of Frances Glessner Lee, who "built detailed doll houses that replicated unsolved crime scenes as training tools and visual aides for detectives". It's wild - meticulous dollhouse lady creates teeny tiny CSI scenes, complete with spatter patterns. It kind of fits, right? You can see photos from the book at the
Bellwether Gallery
.
2.
The Clumsiest People in Europe: Or, Mrs. Mortimer's Bad-Tempered Guide to the Victorian World
by Todd Pruzan. As heard on NPR, just as funny as can be.

3.
PureDigital's Point & Shoot video camcorder. You can get it at Target for $100. It's tiny and it doesn't use tapes, that was all I needed to hear. We've had one since September and we really really like it.

4.
12-foot strings of paper lantern lights
for ten bucks.

5.
The Week-End Book
, ("N.B.—mice cooked in honey should be imported from China, not prepared at home") by Francis Meynell.
6. A
chrome cuckoo
clock by
Kikkerland
, the people who bring us the
Moleskine
notebooks in the U.S.
7. The
Chang & Eng Shot Glass
("make mine a double" aww that's just
bad
) from the
Mütter Museum
.
7.
Lokki bedding
from Textile Arts, your source for everything Marimekko.
8.
The Panorama of New York City
, 48 pages on
one of the coolest models ever built
9.
For your pal who spends every day in the garden, a badass Japanese Farmer's knife. Good for dividing perennials and for feeling extremely tough about it.


10. An
upside-down chair
for kids from DWR.
11. Brilliantly colored rugs from Joe's friend and neighbor
Sara Schneidman
. Ok, a little expensive, but
these
are on sale! And the
greeting cards
are considerably less.
12. A
decorative hand-painted cooking shovel
. Well I guess if I'm going to be shoveling food, I would like to be using a tool that is pleasing to the eye.
13.
Rock´em Sock´em Robots
. The original and still the most disturbing.
14. There's gotta be a
repro map
at the
Library of Congress shop
that's just the thing for your mapgeek friend. Well except they don't sell a repro of the
1869 Sachse Bird's Eye View of Baltimore
, which they do have
online in a format that allows fine zooming
, oh it is
cool
. You can pretty much only get that from
KJA Posters
, and I have no idea whether their printing is any good or not.
15. Every house that has kids and yard should have a copy of
Roots, Shoots, Buckets and Boots
by Sharon Lovejoy.
16.
Edward Tufte's new book, Beautiful Evidence
, $45 or so from Amazon.
17.
Ian Fleming's James Bond: Annotations and Chronologies for Ian Fleming's Bond Stories

by James Griswold. Just get it for your dorky cousin and for me, ok?




18. Meet Danielle Gori-Montanelli, the Leonardo of felt. You can see necklaces and scarves on her website, but she also makes smaller things, flower brooches and the like, out of her beautiful layered felt.


19. Buy your crazy-ass brother-in-law a crazy-ass little kiwi skull from Skulls Unlimited. They also carry a t-shirt with illustrations from Cuvier's
1836
Recherches sur les Ossemens Fossils
. Beautiful and obscure.
20. "
Curiously strong magnets
" from
ThinkGeek
. Do you know
anyone
who couldn't use a pack of magnets strong enough to affix a hammer to the fridge? Or.. a monkey from a shelf? I ask you!
21.
Marge Margulies' breathtaking pottery.


22. How about a DIY gilding kit from Talas? Hasn't your little sister always wanted to gild something? Like her stapler... or her tampon case?



23. You can't go wrong with a gift from Aedes de Venustas, a lavish little store in Greenwich Village. Especially the perfumes from L'Artisan Parfumeur. You want to get real fancy, buy mom the Terracotta Amber Ball (above) room fragrance thingy.

24.
The Skull Alphabet Book

by Jerry Pallotta and Ralph Masiello. Amazing, gorgeous illustrations and neat riddles, plus hidden pictures. My kids gnawed every scrap of flesh off the bones of this book.

25. Toys from metalsmith Kristin Lora, especially her little cars.

26. Locas by Jaime Hernandez. Breathlessly described as "the entirety of the original Locas saga from the first fifty issue run of Love and Rockets ... now available in one mega-massive (over 700 pages!) hardcover volume". Also, it's only fifty bucks from Atomic Books.

27. The Most Beautiful Periodic Table Poster in the World. Available in multiple sizes, at multiple price points. The laminated place mats may just be the best version - they have the story of each photo on the back.

28. A peg-legged, eyepatched, hook-handed pirate made of one long piece of string - the perfect stocking stuffer for the one you love. Zombie also available.

29. Pretty interchangeable glass pendants and earring bobs for your sister-in-law.




Mr Three, back when he was Senor 6 Weeks
30. Last but not least: for the babies, you just can't beat the striped zipper jammies from Hanna Andersson, as seen above on Mr. Three, who never has worn a stitch that's new but whose hand-me-down Hannas always look brand-spankin'. They're organic cotton and they last through at least four kids. Hand 'em down and pass 'em around.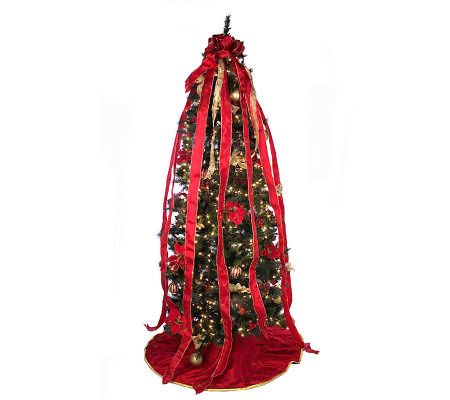 PS:

ALMOST FORGOT! Mr. Librarian's special surprise gift this Christmas - the SimpliciTree, a fully-decorated artificial Christmas tree that rises to its full height of 7 1/2' at the touch of a remote control button!!!

Scare the kids! Startle the cat! Get Grandma really really confused! "Is it the eggnog, or is your tree... moving?"

Available in Angel-y White, Glimmery Gold, and, uh, Satanic Scarlet (above).

A heartfelt thank you to Sandy for bringing this gem, the Entish Liberace, to our attention. Dayum.