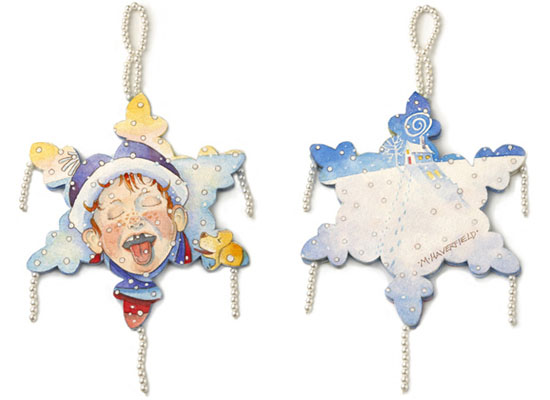 "Snow Tasting" by Mary Haverfield
What is inspiring?

Well, I'll tell you that communicating with all these illustrators has been inspiring. I've been participating in 7 Impossible Things Before Breakfast's effort to publicize and drive traffic to Robert's Snow, the Internet auction of original works of art donated by children's book illustrators to benefit the Dana-Farber Cancer Institute.

The women I've communicated with (and in my case, it's all been women) have not had all that much in common besides talent and generosity. They always wanted to be illustrators, or they went into illustration after something else went kaflooey. They use a computer, they use watercolors. They're just starting out, they've been at it for decades. They're from Texas, New England, Virginia.

But something that comes up time after time is space to work in: finding it, appropriating it, building it, defending it. Julie Fortenberry camps out in her bedroom. Linda Graves has a big studio by a pond. And Mary Haverfield, who painted the blissed-out snowflake up above, waxes rhapsodic about the space she and her husband just built to accommodate both of their creative careers. Listen to this:

We have been working toward our current living situation for 6 years, and we just moved in this week. My husband is a food and still life photographer for advertising, www.pathaverfield.com. We own the building that houses his studio and a plot of land next door, in a warehouse district of Dallas. The area is rapidly changing, and a few photographers and artists have renovated some of the buildings into loft style homes and studios.

We built a new loft style building behind Pat's studio. My new studio and the garage are on the first floor, and our living space is upstairs. From the 2nd and third floors we have the most amazing views of the city, and my studio is the best I have ever had. Big enough for my illustration work and also the large acrylic paintings I like to do.

Oh, man. That sounds so cool.

After hearing firsthand about some of these struggles to carve out space to work, I enlisted the kids to help me re-fit the playroom/guestroom with a tiny desk and a lamp so that Big Man can do his homework without Mr. Four bugging the crap out of him. There's a CD player and a window, the only window in the house that doesn't have a radiator or a toilet in front of it. Bob and I took one look at the new setup and now we're just jealous as hell - we do

our

work on the dining room table. If we're lucky.

So today I carried my laptop up to the playroom. Now I can type while I look out at the rain and the willow in the back yard. Beats the heck out of looking at the mess in the dining room.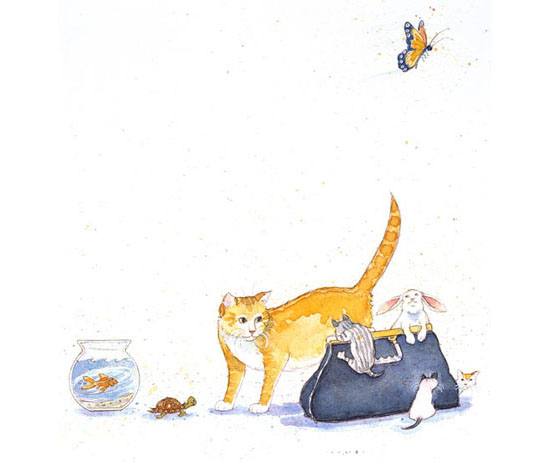 copyright Mary Haverfield



Paging through Mary Haverfield's books, especially

Mocha the Real Doctor

, I got the sense that Mary is inspired by what's outside her window as well. The book's about a cat, Mocha, who is drawn with great personality yet always looks like a real cat; however, the natural settings that Mocha sings about to his patients are the masterpieces. Bluebonnets, ferns, buttercups and mesquite trees put the Texas landscape square at the center of the sweet story.

I love to draw and paint plants and flowers. I use a lot of reference material and I have gardened a lot over the years. In the case of

Mocha

the author mentioned so many plants in the text and I enjoyed working all of them into the illustrations.



It's kind of funny that Mary has just moved to the warehouse district - the first book that she wrote as well as illustrated is

Harriet, the Homeless Raccoon

, the story of a raccoon who makes herself at home first in a family's attic and then in their backyard studio. It's an adorable book, and the raccoon lore and fact pages at the end are welcome, but I have a suspicion that the event wasn't so cute at the time. My neighbors have squirrels in the eaves and it's driven them completely mental. I might be tempted to move downtown too!

It feels like the our best illustrators are always inspired by what they see every day. Every time I open a book illustrated by my friend Pat O'Brien (

Captain Raptor

,

Gigantic!

,

Megatooth

), I see his own face atop the body of a medieval knight, an astronaut, Fletcher Christian. He uses himself or his brothers as models for most of his male characters. (Gets a professional model for most of the females though... his wife is like, "Hey!") Pets, children, houses, and plenty of family members stand in for everyday characters and even famous figures: when Mary illustrated

Mister Bones: Dinosaur Hunter

, a Ready-to-Read biography of Barnum Brown...

...my husband posed for me for Mr. Bones. He has been Jack in the Beanstalk, and the Giant in that story, a character in

Pinnochio,

and many other characters over the years. As have countless neighbors and friends. My son did his share of "modeling" for me as well.



That would be kind of awesome, to open a book and see yourself as The Giant. Pat's wife at least got to be Anne Bonney before she got too busy to stand around his studio and pose.

Another thing I've noticed about these illustrators is that they're never satisfied with what they can already do. They want to learn more about computers, they want to learn Photoshop, or oil painting. They read books and take classes about their computers. When I asked Mary about her favorite medium to work in, she said:

Watercolor and colored pencils. I love the lightness and expressiveness of watercolor. I do sometimes long to be working in a more forgiving medium, like acrylics. I'm really trying to learn Photoshop now, to speed things up and help with mistakes and corrections.
Also, Mary's not the first illustrator I've surveyed to say that she listens to spoken word as well as music when she's working. Books on tape, podcasts, and NPR - it all reinforces my impression that children's book illustrators don't necessarily work in splendid isolation, but rather

in

the world, participating, observing, soaking it all up... not to mention, answering emails with the speed of a Blackberry-totin' cubicle jockey. Don't you love that in a person?

It's been my privilege to have been afforded a peep into these women's lives. The fact that it's come about as a result of their creativity and generosity just adds to my admiration. I'd buy any of their snowflakes in a heartbeat, and order their books for my library as well.

As I stare out the only window in the house not blocked by a toilet or a radiator, at a crescent moon in the night sky over Baltimore, I wonder if it's going to snow before the end of the year. I'm also wishing for a big new live/work loft downtown, but, you know, that's kind of a given.